Why A Diaper Drive?
Our commitment is exactly as stated in our Mission Statement.
Changing The World, One Dirty Diaper At A Time.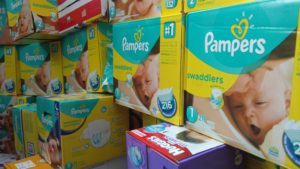 Any new parent knows how expensive diapers can be and for those families who live at or below the poverty line, this can create a dire situation for the child that could lead to serious sickness.  Here are the numbers:
Average price is $0.25 per diaper
Average child uses up to 10 diapers a day
That comes out to over 3,000 diapers per year
Average cost per year = $750
For a family who is under resourced, this is a lot of money!
One side note, the St. Louis Crisis Nursery goes through more than 300,000 diapers every year!
Who This Benefits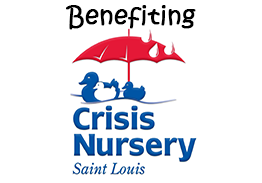 St. Louis Crisis Nursery cares for children on a short term basis and this program is called "emergency respite care," which allows parents a little time to take action on moving their life forward.  Many of us don't understand the nearly impossible challenge of caring for a child or children without a support network or the money to hire someone to help.  How do you go look for a job, move away from an unwanted living situation, or even just get a minute to breathe…?
Did you also know, the Crisis Nursery has long term planning for families  through their "Family Empowerment Program?" This program provides support beyond immediate needs such as budgeting and parenting classes, social events, in home visits and on going guidance and assistance.
But, what about the people that don't know how to ask for help or are too proud or don't realize help is even available?  The Crisis Nursery FINDS THEM.  They don't wait for families to come to them.  They put information in emergency rooms, check cashing and dollar stores.  The Crisis Nursery also has counselors that personally visit food banks and go door to door.  And because it is likely the person on the other side of the door is too afraid or proud to accept their help, they say, "I heard you might be in need of some diapers."
St. Louis Crisis Nursery is, quite frankly, keeping families together and sometimes a package of diapers is their way in.  So, when you drop some diapers in the bin at Aldi or hit purchase on Amazon, the ripple effect of your donation goes much, much further than you can possibly imagine.
Please visit the Crisis Nursery's website for more information and for additional ways that you can help!
If you are in need of help, please call their 24-Hour Helpline at 314-768-3201
How Much Of My Donation Benefits Children?
100% of every donation in the form of diapers and baby accessories benefits local children.  Any donations in the form of money will be used for various operating costs, such as marketing material or paying for services like this website.  As stated in the by-laws of the Pooper Troopers, no part of the cash donations can be used to pay or benefit the trustees or officers of this organization.  In other words, the men and women who run the Pooper Troopers don't get a paycheck for their work, this is a 100% volunteer driven organization. 
Our Story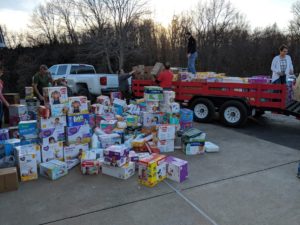 The Pooper Troopers started in December of 2015 as Erwin and Janet Emge's family debated what charity they should help during the holiday season.  As fate would have it, family friend Mary-Beth Mueller came along asking for help with a charity she worked at by the name of Mary Queen of Angels.  This very small charity in O'Fallon, MO gathered baby clothes and diapers for the distribution to local families in need.  Long story short, they were in dire need of diapers and we needed to figure out a way to help.  That first year we sent out the word to friends and family over Facebook for donations and to our surprise we gathered a little over 15,000 diapers!  We repeated our efforts in December of 2016 which netted a little over 30,000 diapers and baby accessories.
Fast forward to December of 2017, only the third year in and we realized that this charity was growing in ways we never could have imagined.  We adopted the name "Pooper Troopers", we increased our goal to 50,000 diapers, and increased community awareness online.  We even got some help from our friends at KMOV-TV who aired a story about the efforts (video can be seen below.)  With Mary Queen of Angels being too small for such a large amount of diapers, we changed course and made the Crisis Nursery the primary benefactor of the donation with small portions of the diapers also going to Mary Queen of Angels.  In the end, we raised well over 71,000 diapers!!!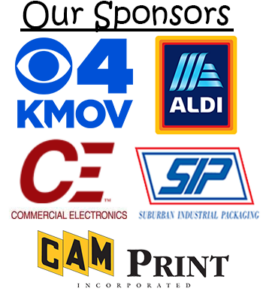 In 2018 the Pooper Troopers teamed up with KMOV-TV and Aldi for a two-week diaper drive with a goal of 150,000 diapers.  The  St. Louis community stepped up to the task in ways we couldn't imagine.  In the end we were able to raise 264,935 diapers and hundreds of other baby accessories!
Total Diaper Donations By Year
2015: 15,000

2016: 30,000

2017: 71,000

2018: 264,935

2019: 342,153

2020: 312,881

2021: 360,284

2022: 204,130
TOTAL DIAPER DONATIONS:
If you are interested in more information about The Pooper Troopers or to donate money, please email us at

[email protected]
---
Board of Directors
In early 2018, the Pooper Troopers became a 501(c)3 and is registered in the State of Missouri.  In order to comply with the standards set forth by the IRS, we are dedicated to being as transparent as possible with how the organization is run and where your donation goes.  This is the list of men and women who are on the Board of Directors.  You are welcome to contact the Pooper Troopers for  more information.
Erwin Emge – President and CEO
Pam Sigmund – Chief Financial Officer
Janet Emge – Secretary
Haley Schumacher – Board Member
Justin Emge – Board Member
---
How We Calculate Total Donations
Most (if not all) charities track donations by the amount of money raised, but the Pooper Troopers track by the amount of diapers given to us.  Though over 90% of all donations are in the form of diapers (either through Amazon or at an Aldi location) we also get donations in the form of wipes and cash.  In order to track the donations that are not diapers, we have come up with a formula to translate those donations to diapers.
In other words, THE POOPER TROOPERS USES DIAPER CURRENCY TO TRACK DONATIONS, NOT USD CURRENCY!  Here is a look at how this is done…
Cash Donations
We estimate that one diaper costs approximately 25 cents each.  If you divide the amount of cash donated by 25 cents, we take that number and add it to the total count of diapers.  So if someone donates $50, that comes out to 200 diapers donated.
Wipes
In 2020 we were able to get well over 100,000 wipes donated.  To take this donation into consideration, we estimate that one wipe costs around 5 cents each.  If you multiply that by the amount of wipes donated, we get a dollar value.  From there we then divide that dollar amount by 25 cents, then add that number to the total count of diapers.  So if someone donates a box of 500 wipes, that comes out to 100 diapers donated.
Side Note: In order to make this diaper drive happen every year, we average around $1,000-$2,000 worth of expenses, and the cash donations are what prop up those expenses.  This includes signage, website maintenance, & fuel for delivery trucks. Every dollar donated is immediately translated to a diaper donation even though it might go towards some of those small expenses.  As stated in our 501(c)3 bylaws, no money can be used to benefit a board member.  For more information about what we spend our money on, please email us at c[email protected].  We are happy to open up the books!
---