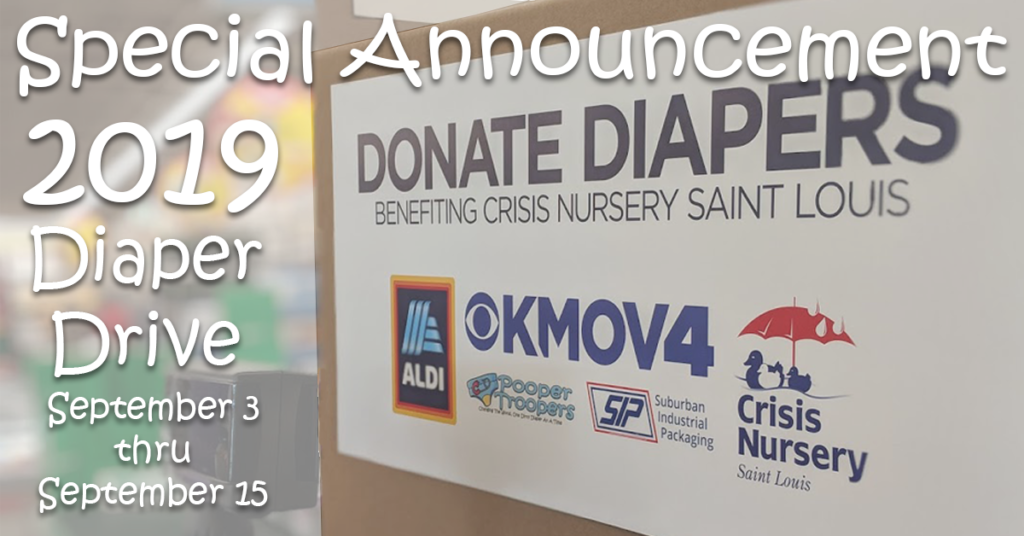 We are pleased to announce that dates have been picked for the 2019 Pooper Trooper Diaper Drive!
With the help of KMOV-TV and Aldi, the Pooper Troopers will be hosting a diaper drive starting Tuesday, September 3 and ending on Sunday, September 15, 2019. The Pooper Troopers have provided two simple ways for you to donate. Either visit one of 40+ local Aldi stores and drop your donation in the bin, or visit www.poopertroopers.org and click the Amazon link.
100% of your donation will go to the St. Louis Crisis Nursery, where thousands of local children and families are helped every year. For more information about the Crisis Nursery or for help, please visit their website.
The Pooper Troopers would also like to thank Commercial Electronics for the use of their facility and staff. Also a special thanks to Lou Fusz Automotive for the use of box trucks as we transport donations from the stores to the Nursery. We couldn't do this without your help!
For more information about our awesome sponsors, please follow this link.